Hubble Adarsh School, Kalewal, a school that is run under Public Private Partnership between Education Department of Punjab and Eduspark's Rustomjee Kerawalla Foundation recorded a stellar 100 per cent results in the recently concluded Class 10 examinations conducted by the Central Board of Secondary Education reaffirming their role of providing high-quality education through Public-Private Partnership in Punjab.
The Rustomjee Kerawalla Foundation, a national school operating body operates three Hubble Adarsh Schools in Punjab at Balad Khurd and Gandhuan besides Kalewal and has been working with many state governments to help efficient running and operations of government-aided schools and pre-schools. The transformation in learning outcomes and better enrolments is largely brought about through state of the art delivery platforms powered by the AMPERSAND Group which enables digital intervention, teaching training, skill and holistic development, scripted and standardised curriculum to operating bodies like Rustomjee Kerawalla Foundation. The products and solutions by the Ampersand Group ensure that there is equal emphasis on academics, co-curricular and extra-curricular activities across schools.
The group also spearheading in bringing in change among government and local body schools by democratising education and by transforming classrooms into digital spaces keeping in mind the modern requirements and needs of students and teachers. This change in Kalewal ensured students achieved the maximum out of the intervention with 25 per cent of the students scoring over 80 per cent marks and almost every student bagging a first-class result.
Ansh topped the school with 96.8 per cent while Komalpreet Kaur and Manreet Singh whose parents are farmers showed their prowess by securing second and third positions respectively with 95.2 and 91.6 per cent. Speaking on his achievement, Ansh said, "The school and teachers guided me throughout the year and honed my language skills to the maximum. I earnestly thank their contribution to my success. This effort will help me in achieving my ambitions of pursuing aeronautical engineering in the coming years."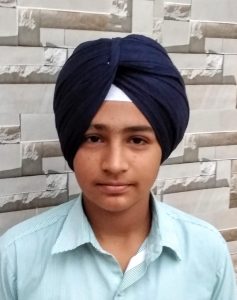 Ms Pooja Saxena, Principal, Hubble Adarsh School, Kalewal, said, "Education plays an important role in enabling a person to face a real-life situation with adequate knowledge. School is a temple of learning and at Hubble Adarsh Senior Secondary School we are making our best effort to give quality education to our students. We give a lot of importance to make discipline a core value, encourage students to develop a sense of responsibility through a well-planned academic schedule. Various measures have been taken in due course of time to bring the academic excellence resulting in the best performance in 10th Board session 2019-2020."
Mr Vinesh Menon, CEO – Education, Skilling & Consulting Services, Ampersand Group, "The outstanding results are a testimony in ensuring holistic development for all our students and I congratulate every student at the Hubble Adarsh School at Kalewal. In addition, I thank all our teachers and support staff for being the guiding light to our students and contributing towards their success. Our school shall continue to strive with our innovative teaching mechanisms to help our students become global ambassadors."
Related Articles