One of the most-awaited budgets is here. In the Union Budget 2021, Finance Minister Nirmala Sitharaman announced a total expenditure estimate of Rs 93,224 crore for education. This consists of Rs 54,874 crore for the Department of School Education and Literacy and Rs 38,350 crore for the Department of Higher Education. Setting up regional, national institutes for virology, over 15,000 schools to be qualitatively strengthened under National Education Policy 2021, 100 new Sainik Schools to be set up in partnership with NGOs, and 750 Eklavya model residential schools in tribal areas are some of the key measures announced for Education Sector. A central University in Leh for accessible higher education in India and allocation of Rs 3000 for the training of graduates and diploma holders in engineering are also much appreciated by the sector. However, mentioning nothing about the informal education sector led by EdTech disappointed many.
While there would be many debates happening all around the country in the coming days, here are some quick reactions on Union Budget 2021 from the prominent education and industry leaders.
Vijay Thadani, VC and MD, NIIT Ltd and Co-founder, NIIT University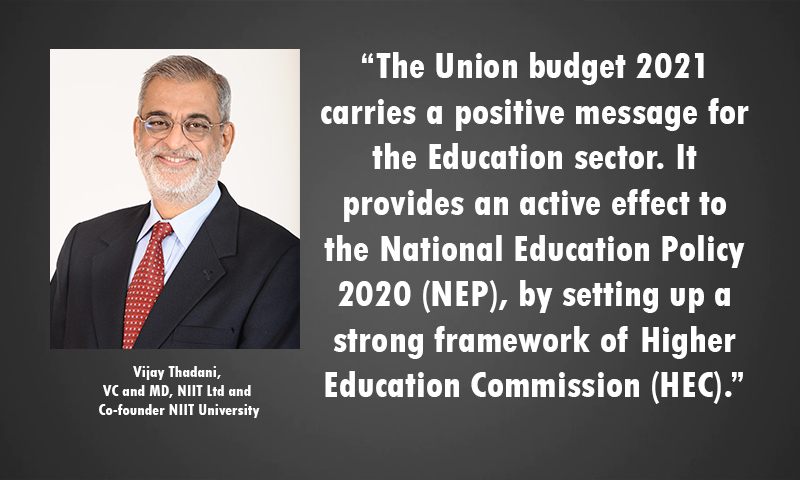 "The Union budget 2021 carries a positive message for the Education sector. It provides an active effect to the National Education Policy 2020 (NEP), by setting up a strong framework of Higher Education Commission (HEC).
The announcement of National Research Foundation (NRF), to receive an outlay of Rs. 50,000 crores in 5 years to boost quality and quantity of research in India, is a big push towards innovation in the education sector. We are optimistic and look forward to the research funding being made available to Higher Educational institutions.
The Government's initiative to set up a HEC responsible for the accreditation and regular funding of the Colleges and Universities will go a long way, in creating better synergy between higher education institutions across the country. The education sector is hopeful that the research funding both from HEC and NRF will be made available as a level playing field between public and private higher educational institutions."
Prof Anju Seth, Director, IIM Calcutta
"The setting up of a Higher Education Commission responsible for standard-setting, accreditation, regulation and funding of colleges and universities can help boost quality education with an integrated approach, but diversity of institutions will have to be managed carefully. Furthermore, it is reassuring to see that Research & Development has been brought to the forefront by the allocation of Rs 50,000 crore over 5 years for the National Research Foundation, and with the collaboration with Japan for sharing of knowledge and technology. The "umbrella structures" advocated in 9 cities to encourage partnerships across institutions can go a long way to achieve the desired synergies of multidisciplinary higher education as envisaged in NEP. Besides investments, the key to achieving real gains in the education sector will be good governance practices in implementation of initiatives.  And of course, the priorities accorded to infrastructure development and health care are essential to spur economic development."
Dr. Akhil Shahani, Managing Director, Thadomal Shahani Centre for Management, Shahani Group and Ask.Careers
"The budget had some welcome initiatives, like collaboration with UAE & Japan, adding more rural schools, and strengthening the national apprenticeship programme. However, I believe that a lot more could have been done to build India's education sector as per the goals set out by National Education Policy (NEP 2020). Increased allocation of funds up to 6% of GDP (as recommended by expert committees), opening the sector to private for-profit investors and allowing foreign universities to setup campuses in India, were great opportunities which were missed in this budget."
Dr. Niranjan Hiranandani, Provost – HSNC University
"The modern outlook and approach in the budget outlook for Education sector is opening-up floodgates to reinvigorate human capital on a serious note. The outlays drawn is paving the path for the advance of India on the global map via extensive initiatives and measures like Rashtriya Shiksha Mission, extended support continues for primary education and for tribal areas as well as underprivileged additionally encompassing focus on higher education inclusive of skill development that falls in tune with NEP 2020. An ambitious target of supporting 15000 schools via NGO's and other organizations will go a long way in revamping education management in the system. The FM's proposal towards skilling and apprenticeship for students on amending the same and dedicating a sum of Rs 3000 crores will give multiple opportunities to the aspiring NextGen leaders of tomorrow. Special outlays of Rs 50,000 crores over 5 years to strengthen the renewed focus on Research & Development.  Furthermore, introducing legislation to form a Higher Education Commission of India to look after accreditation, funding, regulation, and standard-setting is a strategic four-pillar move that strongly builds on National Education Policy.
Thus the budget 2021 promises to be an employment-generating budget that will be backed by Skill India Programme as well as indicates a direction to promote academic collaborations with foreign higher education institutions and associating with international vocational models to extend our boundaries."
Shridhar Venkat, CEO, The Akshaya Patra Foundation
"The 2021-22 Union Budget has provisioned to merge the supplementary nutrition programme under the Anganwadi Services Scheme with Poshan Abhiyan. It is indeed a welcome move by the Government. At a time when we are threatened with the massive burden of malnutrition, it's better to have our efforts aligned under one umbrella. Though the Government has been making several interventions in the past to improve nutrition, allocating additional resources will help broaden the base of people reached. Considering that during the pandemic, school going children were deprived of mid-day meals, it is imperative that nutrition deficit is tackled on a war footing. I look forward to Mission Poshan 2.0 that will create a positive impact on public health & nutrition and rid the nation of hidden classroom hunger. As a foundation we are committed to working with the Government in meeting UN's SDG goals of Zero Hunger by 2030."
Dr. Anunaya Chaubey, Provost, Anant National University
"I found the focus of the budget on effective implementation of new education policy to be reassuring. The proposal for the higher education commission as an umbrella organisation having four dedicated bodies for standard-setting, accreditation, regulation, and funding will bring focus on performance and bring clarity to institutions seeking help from the government. The creation of city-based structures to create synergies among higher education institutions located in a city which is also supported by a glue grant is an innovative step. I hope Ahmedabad will be one of the cities selected for the benefit as it has a large number of old and new educational institutions. The continuing commitment to National Research Foundation with the allocation of 50,000 crores over next five years will provide a thrust to the strengthening of the research ecosystem in India. Overall, I find the budget to be forward looking that continues to build upon past work and create new and facilitating structures that will help implementation of the new education policy."
Rustom Kerawalla, Founder Chairman, VIBGYOR Group of Schools
"We, like the rest of India, welcome Budget 2021 with open arms. This budget is highly significant, as it comes at a time when Indian industry is beginning to rebound from the unprecedented contraction caused by the COVID-19 pandemic, and our goal needs to be to help the country get back on track as the world's fastest-growing economy, by boosting the spending on education, skilling, and apprenticeship.
The budget has correctly highlighted the imperative for greater emphasis on innovation, research, and development, which are crucial to helping India reach the aspirational goal of becoming a $5 trillion economy. Focusing on the amplification of emerging technologies can help create a world-class education ecosystem in the country and equip future Indian professionals with the required skills and competencies to navigate the data-driven world of tomorrow. We look forward to working with the Indian government on realizing these and other goals, such as inclusivity and accessibility in education, and appropriately harnessing the potential and skills of our youth, which will solidify our country's position as a top economy and leader of the future."
P.C. Chhabra, Executive Director, Sanskriti University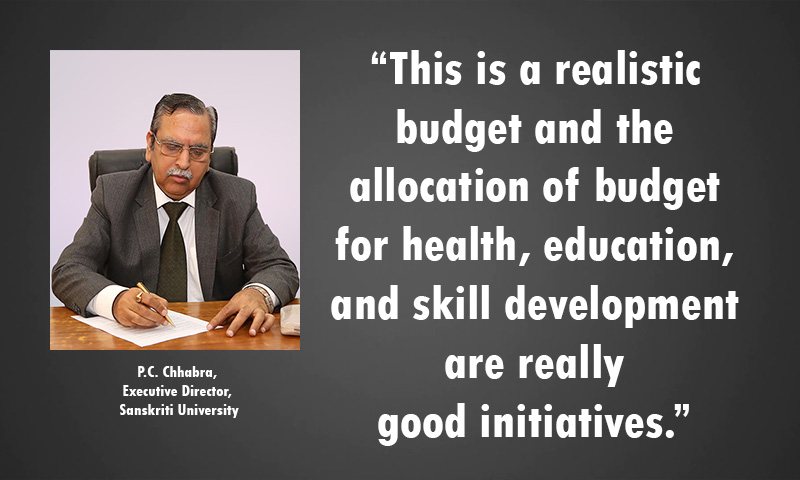 "This is a realistic budget and the allocation of budget for health, education, and skill development are really good initiatives. We were expecting digitalization in education but increasing expenses of mobile and electronic products will lead to the problem in education and this is a step back in digital India. This budget will be a boost for healthcare and infrastructure and will strengthen NEP. The FM has allocated over INR 3000 crore funds with a forward-looking training plan towards the success of Atmanirbhar Bharat. Opening college in Leh, Collaboration with Japan for training and inter-training programmes to facilitate transfer of Japanese industrial and vocational skills, techniques and knowledge are very positives. Though the government made a positive move by increasing the number of universities, amendments in the apprenticeship training scheme and training scheme, this may not be enough for the World's largest young population with 600 million people under the age of 25 years. Overall the Budget is very progressive and transparent."
Kavita Kerawalla, Vice-Chairperson, VIBGYOR Group of Schools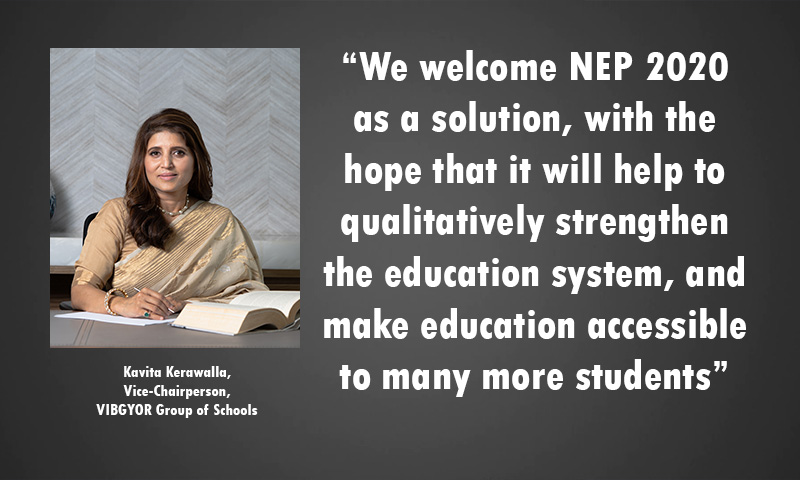 "As Hon'ble Finance Minister said, the vision of Atmanirbhar Bharat is laid on six pillars, one of which is the development of human capital. The emphasis on skill development and education is essential to fortify the country's socio-economic fabric, as we continue to rebuild our nation while also battling the pandemic.
As a nation, we have come a long way in providing access to education for all. However, with the current pandemic situation, we also run the risk of losing this impetus and the hard-earned progress made in this direction. We welcome NEP 2020 as a solution, with the hope that it will help to qualitatively strengthen the education system, and make education accessible to many more students. The budget's focus on research and development will also stimulate innovation, and motivate Indian students to acquire the necessary skills, to catapult the country even higher in the ranks of global leaders. Overall, we look forward to a positive holistic effect of the budget."
Sahil Agarwal, CEO and Co-Founder, Rishihood University
"The budgetary allocations and announcements in education are welcome. The last-mile delivery of good education is essential for the country's growth. It is heartening to see that a university is being planned in Leh. We need to move the focus away from metropolitan cities to improve access to education. Incentives should be created to bring the best faculty members to such universities.
The budget has furthered the objectives of NEP and it will be a big boost to educational reforms if HECI is legislated this year. Similarly, other initiatives to promote a national digital framework (NDEAR) and professional standards will bring quality to the overall system.
We find a lack of talk and action on financial reforms in education. If the government opens up the sector to private investments, foreign investments, and reforms like the voucher system for a PPP model of delivery, India can achieve the objectives of NEP much sooner."
Prof. Daviendra Narang, Director, Jaipuria Institute of Management, Ghaziabad
"Several points stand out for me in the Union Budget presented by our honourable Finance Minister. From the point of view of higher education, I welcome the move to promote academic collaboration with foreign educational institutions, as proposed in the annexure 5 of the budget. This move will empower students to hold joint or dual degrees, and open better career prospects for them, not just in India but across the world. Likewise, the proposal to set up National Digital Education Architecture will help bridge the digital divide which we presently see across multiple industries. It will narrow the Digital Learning Gap and equip students in management institutes with necessary digital knowhow to meet the high demands and standards of the corporate world."
Shishir Jaipuria, Chairman, Seth Anandram Jaipuria Group of Educational Institutions
"The education sector will get to benefit from the Union Budget presented by the honourable Finance Minister, Nirmala Sitharaman, today. The budget paves the way for a phased implementation of the National Education Policy with the first step of bringing 15,000 schools across India under the policy's ambit. This will help minimize any widespread disruption in the pedagogical processes or curriculum, as these schools will serve as models for the other schools to follow. The other schools will draw their lessons from these model schools for a smoother implementation of NEP in the future. I also welcome the move to set up Sainik Schools and Eklavya Schools as these will help bring more equality in education. I strongly endorse the proposal for National Professional Standards for Teachers (NPST), as expressed in annexure 5 of the budget. This proposal will set an important benchmark for teaching standards in Indian educational institutes."
Harish Sanduja, Director – Schools, Seth Anandram Jaipuria Group of Educational Institutions, Ghaziabad
"In her key announcements of Union Budget 2021, Finance Minister Nirmala Sitharaman said that 15,000 schools will be strengthened as per National Education Policy. The implementation of NEP in 15000 schools initially is a great and thoughtful step by the government. The full-fledged rolling out of the same into the education setup without a trial run would have been an unwise and a hasty decision.
Since all the educational institutions have been providing virtual learning since the outbreak of the virus, we were looking forward to more investments in the online education models as blended learning will be the way forward.
Dr Santanu Paul, CEO and Managing Director, TalentSprint
"The 2021-22 Union Budget has been a letdown for edtech firms which performed extremely well during the pandemic and were revenue drivers. Platforms promoting hybrid and blended learning will play a pivotal role in accelerating reach in tier 2/3 towns and the government should have taken cognizance of this and provided special incentives. Home-grown edtech firms such as ours make a tremendous contribution to the tech industry in terms of providing job ready talent for future technologies. As an NSE group company, we welcome the allocation of Rs 1500 crore fund for digital payments as this will drive the need for more skilled talent in the fintech sector, and drive employment opportunities.
However, we welcome the announcement of collaborative training and inter-training programmes between India and Japan to facilitate the transfer of Japanese vocational and industrial skills, and the partnership with UAE to benchmark skilled qualifications. We expect such initiatives will be a game changer for industries. Building and collaborating on skill initiatives with other countries will bring new avenues for India's youth who want to reboot their career. The setting up a Higher Education Commission (HEC) and allocation of Rs 50,000 crore for the National Research Foundation over five years will help in raising the bar in the education system of the country which is fast evolving."
Sajid Khan, Head of International Development, ACCA Global
"ACCA applauds the government's initiative to strengthen 15,000 schools, under the National Education Policy. These exemplar schools would serve as a role model for all the schools to implement experiential and activity-based learning in line with the policy, thereby moving positively towards the vision of Aatmanirbhar Bharat."
Tarun Goel, Director of The Design Institute of India 
"Government will implement the legislation for setting up of the Higher Education Commission of India (HECI) envisaged in the National Education Policy 2020.
The year 2020 has been a terrible year for the education industry as the COVID-19 pandemic forced schools, colleges & institutes to stay shut & resort to online learning. The education budget comes as a ray of hope in these tough times that the entire nation has been facing due to the challenges imposed by Covid-19.
The focus on empowering students of all regions and strata; by strengthening more than 15,000 schools (to emerge as model schools in their regions, hand holding and mentoring other schools) and setting up of 100 new Sainik schools is a great step by the government.
One of the key developments in the education budget 2021-22 is that the government will implement the legislation for setting up of the Higher Education Commission of India (HECI) envisaged in the National Education Policy 2020. It would be an umbrella body having four separate bodies for standard-setting, accreditation, regulation, and funding to make it one of the most centralized regulatory institutions and replace all other regulatory bodies like the University Grants Commission or the All India Council for Technical Education.
Another major announcement is the creation of a formal umbrella structure in 9 cities to cover all Govt. colleges, universities, research institutions in a city for greater synergy."
Vivek Jain, Chief Business Officer of Shiksha.com
"The budget gives a good boost to our education system where over 15000 schools will be strengthened under the National Education Policy. Also, the replacement of the '10+2' structure with the '5+3+3+4' model has the potential to upgrade the Indian education system to that of developed countries. The main challenge will be for the first few batches to adapt to the new structure. We are optimistic that the new structure will be positive for students."
Hersh Shah, CEO, India Affiliate of Institute of Risk Management
"We welcome the Finance Minister's announcement to revamp the higher education sector in line with the NEP2020. Among other critical developments, the Nation First policy, outlined in the budget, is based on strengthening education for all with an emphasis on primary and higher education. The budget focuses on the need to foster international collaborations in research and development as a critical tool for skill enhancement. The announcement of higher education cluster in nine cities will bring synergy and further strengthen the education sector. It will allow enhanced cooperation between good private and public institutions, encouraging knowledge-sharing and coherence. We are looking forward to the Higher Education Commission which will be tasked with taking forward the vision of NEP2020.
The Budget 2021 also addressed the key issues facing the economy today. The six pillars, as envisioned by the FM, will be critical in reviving the post-pandemic economy. The decision to double MSME allocation will provide much-needed relief to the micro, small, and medium-scale entrepreneurs who were hit hard during the lockdown. Incentivising one-person companies, coupled with easier debt resolution will further help in boosting this critical employment-generating sector. The slew of measures in finance, insurance, and banking continue the government's commitment to reforms while providing critical space for capital inflow in the economy. Overall, the budget shows the government's commitment towards developing a robust education ecosystem that is in harmony with sustainable development and a self-reliant India."
Vamsi Krishna, CEO & Co-founder, Vedantu
"The National Education Policy has been a strategic move towards guiding the development of India's education. To strengthen the policy further, this Union Budget is focusing on initiatives like National Digital Educational Architecture (NDEA) which will provide a diverse education eco-system for the development of digital infrastructure, educational planning, governance and administrative activities. The complete shift from using assessments to not only judge the cognitive levels of the learner but also using it as an opportunity to identify the unique strengths and the potential, is a student centric approach which will lead to the holistic development of a child and provide them a greater edge, globally. Further, I would like to see more investments & budget allocation to go into the education sector to enhance it with more trending technologies which will make education accessible to students in the farthest corners of the country."
Prajodh Rajan, Co-Founder & Group CEO, EuroKids International
"The education sector has found a prominent place in this year's Union Budget, given the large scale impact the pandemic has had on it. With an aim to move India towards an Atmanirbhar Bharat, this year the focus is on rolling out the NEP and its elements across schools. The Digital First Mindset will take blended learning further so that students can continue their learning paths. Teacher training and a toy based learning pedagogy will help strengthen the sector and take us ahead on the learning curve."
Abhishek Mohan Gupta, Pro-Chancellor, Jagran Lakecity University
"The initiative to boost One Person Companies (OPCs) is a refreshing step which will boost the spirits of young entrepreneurs and will have a long-term trickle-down effect on the innovation landscape of the nation. The One Person Companies (OPCs) is a wholesome step for every entrepreneur but especially for the women. It is estimated that $20 Billion is the contribution of women entrepreneurs in the MSME sector and now is the opportunity after the pandemic that they will again reclaim their position as job enablers.
The incorporation of ONE PERSON COMPANIES (OPC) without restrictions and paid-up capital will be a much-needed push for small entrepreneurs, especially the students who have graduated recently. Entrepreneurs can flex their innovative muscles without worrying too much about the risks and thus new ideas will be brought to the national stage and the Indian potential will shine globally.
One Person Companies (OPCs), when combined with no major change in taxation policy, gives a boost to the entrepreneurial landscape, as the new innovations will emerge and the existing ones will continue to thrive after the pandemic.
The allocation of 3.7k Crores for the first digital census is the declaration that India has arrived at the global scene as a technological mammoth, which can conduct the biggest demographical exercise the world has ever seen and that too digitally."
Ashwani Awasthi, Managing Director, RICS School of Built Environment
"The Government of India had announced transformational changes in the education sector while launching the National Education Policy (NEP2020) in July last year. While NEP 2020 focuses on raising the quality of education however effectively implementing some of the policy reforms and upgradation of infrastructure of public education institutions was the key to achieving the desired outcomes. The announcement of setting up of Higher Education Commission, Implementing the examination reforms, creating more school infrastructure with the support of private sector will help in effective implementation of NEP 2020.
The allocation of Rs 50,000 crore for National Research Foundation will be key to India's growth in the Research and Development field."
Shweta Sastri, Managing Director, Canadian International School, Bangalore
The union budget 2021 is definitely a progressive one that revives the economy especially in the context of the pandemic and creates positive sentiment. This was probably the most awaited Union Budget for the education sector in the past decade with education of millions of children in India impacted by the world's largest school closure in the midst of the COVID-19 pandemic. The government has proposed a few new measures for India's education system and laid emphasis on improving quality of education.
Education plays an important role in bringing a change in society across generations and more so now in this technological age. Measures like strengthening 15,000 schools will lead to greater qualitative education for children across the country. Focus on skilling in collaboration with UAE will also lead to children gaining greater employability in future. The initiative to set up a Higher Education Commission responsible for the accreditation and regular funding of the Colleges and Universities will lead to greater synergy of institutions. The setting up of 750 Ekalavya residential schools in tribal areas and focus on the welfare of SC students with a massive outlay for the next 5 years will also give a boost to the under privileged children and enable access to quality education for them. The initiative by the Government to maintain the research ecosystem by collaborating with many countries starting with Japan will enhance the scope of education in the areas of technology and knowledge.
Education clearly is one of the most important investments a country can make in its people and their future. Our education system needs to be self-reliant and globally competitive. With education being the key component in shaping the future workforce, an enhanced focus on education will help schools to manage costs of online education which has become a necessity now. Going forward, the government must continue to take initiatives such as allocating bigger spending on education, push greater digitization and balancing of the urban-rural gap in education. With India set to be an international educational destination in the current decade, government must act to meet the needs of an aspiring generation which is looking to the future with great hope.
Rohan Parikh, Managing Director – The Green Acres Academy
"The main issue in our country is more so the lack of quality in education rather than a lack of education. Happy to see that a solid policy like the NEP will be given the support and attention it needs to take it from a document to on ground change.
While the new framework is great, the truth is always in the execution, which has been the weak link in the past. We hope that the investment is geared towards development of leadership and teachers as that is the most impactful investment.
We also welcome the much needed partnership between private and government schools which will help in sharing best practices and improving the overall quality of education in our nation".
Niru Agarwal, Trustee, Greenwood High International School
"The state of education is often a healthy predictor of the country's overall development and well-being. The Union Budget 2021 will lead to the development of the education sector and the initiatives to treat education holistically for school children is a welcome move. We are glad that the new measures by the Government would bring about positive changes in the education system. The government has focused on improving quality of education and this would go a long way in rejuvenating school education. The overall focus of the budget has been to make education robust and responsive to students' needs in terms of quality education in rural sector, skill development, research & development, employability & international collaboration to enhance technical knowledge. Education being the key instrument of social change, progress and upward mobility in India, the government needs to ensure that education sector continues to get the attention and funding it richly deserves. The challenge right now is not just producing students who will get jobs, but students who can thrive in rapidly changing environments."
Vinay Sharma, Head of Digital Services, S.Chand and Co. (Mylestone and Learnflix)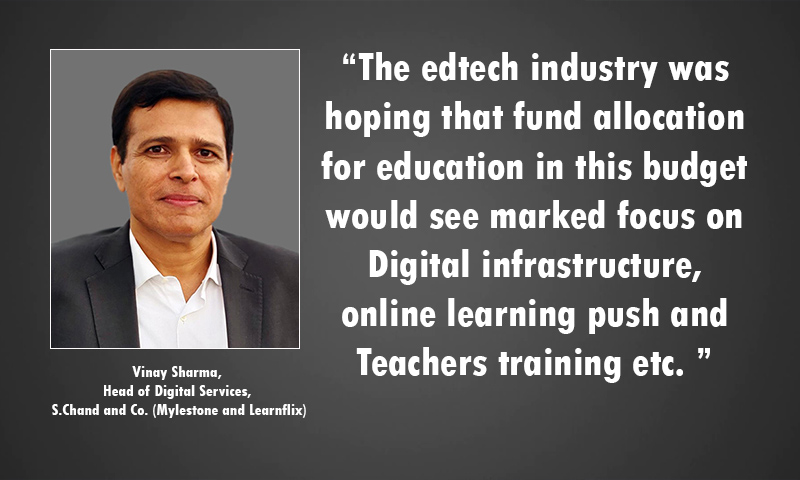 "2020 is likely to go down as the most eventful year in recent history for the entire globe. It was no different for the education space in India. We witnessed an unprecedented shift to online education as schools and colleges remained shut during the pandemic. Having played a critical role in helping schools and students continue the teaching-learning process in this period despite all challenges, the edtech industry was hoping that fund allocation for education in this budget would see marked focus on Digital infrastructure, online learning push and Teachers training etc. Therefore it was a little disappointing to see that the budget, which had many positives for education sector like setting up of new Sainik schools under PPP, qualitative transformation of 15000 schools in line with NEP and most importantly setting aside of 5000 crores for R&D, fell a bit short on capitalising on the opportunity to build momentum for digitisation in Indian education that could have had far reaching benefits for our young population."
Suman Matcha, Chief Executive Officer, Online Adaptive Knowledge System (OAKS)
"According to Mrs Nirmala Sitharaman's agenda on the education budget, it is perceptible that innovative technology has to be the protagonist either to adapt skill-based learning by leaving behind the old school roting rituals or colluding with UAE & Japan to imbibe the 21st-century skills by yawing from the existing unidirectional assessment. Catering the assistance to 271 M students in K12 or the Digital  native / mobile-first NHB segment, ED TECH solutions play a catalyst role in the prospering implementation of NEP 2020 objectives, replicating the role, tech has played during the  pandemic scenario where students could over go the hindrances of closed schools."
Sandeep Wirkhare, MD & CEO, Indian School Finance Company
"Overall, well thought out six pillars for growth. Education sector would have expected higher allocation or specific measures for schools & education infra financing institutions given the pandemic overhang but setting up 15000 model schools under NEP is positive and will go a long way in channelising energies in desired direction to enhance much required quality in education. Financial institutions to benefit from setting up an organization in line with Asset Reconstruction Company. Specifically, bringing down applicability of SARFAESI to the loans above INR 20 lac will be a big boost to NBFCs like ours to tackle NPAs."
Vishnu Karthik, Director, The Heritage Group of Schools
"Education sector has been seriously hit post-Covid both in terms of financial sustainability and also in terms of learning outcomes. This budget hasn't had anything specific to expand budgetary spend to offset covid impact. But it is not surprising as there is not much fiscal cushion this year for the Government. Setting up 100 sainik schools is a good step but would at best be a small ripple in terms of impact. But the 750 eklavya model for impoverished communities is a great step and we hope that private operators are invited to set up model schools. We hoped to see more clarity on setting up institutions to strengthen assessments on critical skills enumerated by the NEP and hope that the MHRD provides clarity on this sooner."
Kartik Sharma, Co-Founder, DcodeAI
"The government's continued efforts to boost the excellence of education in India is greatly appreciated. With an emphasis on strengthening the Nation First Policy in Union Budget 2021, the government will offer robust remedial solutions that are aligned with the vision of creating a thriving education ecosystem. With a focus on education for all, providing quality education through National Education Policy (NEP), collaboration with Japan for the sharing of technology and knowledge, skilling youth and launch of data analytics, artificial intelligence, machine learning driven MCA21 Version 3.0, the government have rolled out incentives to provide impetus to the activities and subsequently to the growth of EdTech as well as of skill-tech enterprises. Such incentives along with funding provisions will create space for collaboration amongst start-ups, especially in the education sector and open up new avenues of career growth for Indian professionals."
Srini Raghavan, Co-Founder and Chief Executive Officer, Educational Initiatives
"The Union Budget 2021-22 focuses on driving notable progress in the educational system in India through transformation in the learning framework from traditional rote learning format to an evolved and engaged pedagogical approach for students in K12.
The government has shown the commitment to take a number of steps to reform assessments in India including Board Exam Reforms and making assessments focus on conceptual learning in school, which we welcome. This focus on assessments, which is the core of the learning solutions that we offer at Educational Initiatives, ensures that students are assessed on conceptual clarity, analytical skills and application of knowledge to real life situations. It also helps to identify the students' potential and in making formative decisions in higher education and career choices.
In addition, the pandemic has underlined the importance of upskilling teachers for which Government's decision on training school teachers through the new initiatives  will aid in promoting the need for improved quality in education, across schools and syllabi. The parameters will enhance the capabilities of teachers through individual mentoring of school teachers and educators through constant online/offline support on subjects, themes and pedagogy in line with the Science of Learning."
Rohan Krishna, CEO and Co-Founder, Elite
"The Hon'ble Finance Minister's 6 pillars for Budget 2021 include "Inclusive Development for Aspirational India" and "Reinvigorating Human Capital". This is a welcome development.
Development of our human capital, particularly the youth, is a key area that has been tremendously underserved over the years in our country. The need of the hour is to skill, upskill and reskill not just professionals in the metros but the vast population in the hinterlands.The announcement of a Central University in Leh is a right step in this direction. I wish many more come up in the remote areas of the country.
Many students drop out after 10th and 12th – a huge waste of human capital. The newly announced Higher Education Commission can deploy resources and funds into hybridizing vocational and professional skills training for this youth with a mixture of e-learning and skills building in vocational centres. The initiative to strengthen our human capital and train our youth by providing INR 3000 crores towards the National Apprenticeship Scheme is a hugely welcome step."
Divya Lal, Founder and Managing Director, Fliplearn
"The allocation of Rs 5000 crore towards R & D is one of the highlights of this budget and can be committed to strengthening edtech platforms and building a strong digital infrastructure for education. FM's plan to qualitatively strengthen 15000 schools under NEP can lead as an example of a blended learning approach where digital education complements traditional brick and mortar schooling. This transformation will, however, require the involvement of school heads and teachers in adopting the "Phygital" model of education to align with the MoE's vision. While R & D and skilling initiatives are explicitly mentioned in the FM's speech, training on leveraging technology in education has not been spelt out and this will be critical to actualising the impact of digitization of education."
Sanjay Tiwari, Co-Founder, 21CC Education
"The budget blows new life into skilling by directing funds towards the pain points in the skilling, logistics & training and education space. Financial inclusion through the Standup India initiatives looks to encourage SC/ST and women to join the workforce and that is a welcome initiative. In addition to this, affordable housing and tax exemptions for rental properties of migrant workers will go a long way towards providing housing security to migrant labourers. Collaboration with international markets of UAE and Japan will ensure job opportunities and will make India compete and contribute on a global scale. The investment into infrastructure is a testimony of the government's vigour to aid logistics and more importantly, to further open up our economy post the pandemic."
Neelima Kamrah, Principal, KIIT World School, Gurugram
"In the Union Budget 2021, the education sector has given a new path to collaborate with other countries where students can enhance their skills. The establishment of the National Research Foundation to promote research, the formation of the Higher Education Commission, and the provision in the budget for skill development is a commendable step. With this, public-private partnerships with private schools and non-governmental organizations (NGOs) opening new Sainik schools in the country and strengthening schools in the New Education Policy (NEP) is a good step, but how the government will bring these schemes on the ground is also important."
Narayan Mahadevan, Founder, BridgeLabz
FM today in the budget speech was on the spot to recognize India will have the World largest working age population by 2030 which needs to be skilled for the Job. And Internship/Apprenticeship is the best way to garner the required Job skills. I wish the Government had definitive plans to accomplish the same and even encourage such platforms that work towards skilling from the perspective of employability and create business models on successful employment. It's welcoming to see Startups get a tax holiday for one more year in Budget 2021. I wish the Government simplified the procedure to get Low TDS. Many startups do not make money and if the money is stuck with the Government as TDS, it creates that much more challenge for survival.
Neha Bagaria, Founder, CEO, JobsForHer
"The government's emphasis on creating an Atma Nirbhar Bharat is synonymous with ensuring that our women are also atma nirbhar, which can only come with their financial independence.  It is thus a welcome change that women will be allowed to work in all categories with adequate protection, a move which will open up further job opportunities for women, thus enabling higher financial security.
Additionally, we had highlighted the need to ensure that gig workers, a huge proportion of whom are women, need to be provided with adequate benefits. It is thus heartening to see that Social Security benefits will now be extended to gig and platform workers for the first time".
Rameswar Mandali, Founder & CEO, SKILL MONKS 
"Improving employment opportunities at the higher educational level by allocating INR 3000 crore in National Apprenticeship Training Scheme is a palpable consideration in the Union Budget 2020-21, for students from both non-science and technology streams. This will ensure that skilling is prioritised and enable students to be future-ready, in the domain of their choice and stay relevant in a dynamic market environment.
In addition from a start-up point view, the Finance Minister's proposal to extend tax holiday by one more year and capital gains exemption up to March 2022 is a welcome move and will enable the start-up ecosystem in the country to get onto a strong footing."
Manish Mohta, MD, Learning Spiral
"From a Higher Education viewpoint, the budget sets the right direction by focusing on implementation of NEP, setting up of the Higher Education Council and the large fund allocation to research are all great ideas. Execution and how fast these things move will be the key thing to observe moving forward. Education budgets being stagnant is also a concern as it was already far lower than most countries in terms of a percentage of GDP. EdTech startups will also be happy with the provisions for Startups in general."
Amit Agarwal, Founder & CEO, OckyPocky
"As an edtech entrepreneur, I had huge hopes due to NEP – but somehow the government seemed to have forgotten to backup in primary years. The budget has met the wishlist halfway as the edtech segment had a lot more expectations. There has not been any allocation for funds for kids who have been deprived of schools due to the pandemic.  The sector was looking forward to an increment in the funding allocation than the last year, however, it has been decreased further. Although setting up the National Digital Educational Architecture (NDEAR) could be of great benefit to the country as it focuses on educational planning. Adding to this, by extending the eligibility to claim tax holiday and capital gains exemptions for investments in start-ups by one year, it has given a boost to the Indian startups overall and will definitely help to incentivize funding of the start-ups and will help in increasing the entrepreneurial spirits".
Som Sharma, Founder of Edu Brain Group 
"The status of education is often a healthy predictor of the country's overall development and well-being. The Budget 2021 as presented by the Finance Minister had various generic points such as set up of Higher Education Commission responsible for the accreditation and regular funding of the Colleges and Universities and also proposed to amend apprenticeship law to enhance opportunities for youth is a great initiative taken by Govt of India. The Union Budget 2021 has definitely proposed significant changes which have the capability to revitalise the education sector. To promote skill Development Govt. has taken a few innovative initiatives to maintain the research ecosystem by the collaboration with Japan for the sharing of technology and knowledge and collaboration with UAE for skill development and deployment on successful completion of courses. We feel Budget 2021 comes up with various opportunities for students to enhance their skills and this right intent of the government can truly be attained if we also have long-term strategy and organisational structure in place and we also look forward to it."
Kauhsik Sharaf, CEO & Founder, Cymatic
"In the Budget announcement, emphasis has been put on holistic development, teacher training and achieving the target of NEP-2020. With 15000 schools to be strengthened, we expect the policy of whiteboard and digital education in every school just like the Radhakrishnan Commission recommendation of blackboards in every schools. We could also expect mission tablet- where tablet to be provided to teachers as well as students within the context of Digital First Mindset to build Digital architecture to support the teaching and learning activities.
We also appreciate the tax holiday for startups and capital gains exemptions for startups by one more year which is going to be proved beneficial for early-stage startups to fund their growth."
Dr. Chandrima Sikdar, Associate Dean, School of Business Management, SVKM's NMIMS Deemed-to-be University
"The announcements for the education sector in the Union Budget 2021 spell out a road map towards inclusive education in India. From setting up of a central university in Leh to setting up 750 Ekalavya Model residential schools in tribal areas to 100 new Sainik schools to revamping of a post-matric scheme to a proposal to amend the Apprenticeship Act, the announcements clearly indicate a concerted effort towards making education accessible, available and affordable to all and to the remotest and farthest of the places in the country."
Dr Suresh Mony, Professor Emeritus, SVKM'S NMIMS Bengaluru Campus
Three proposals of the Finance Minister in the budget for 2020-21 for the Education sector are appealing, viz: (a) Strengthening of 15000+ schools (b) Setting up of the Higher Education Commission (c) Fund allocation for the National Research Fund(NRF).
It is the quality of primary education that is really hurting human and economic development. While India has over 15 lakh schools which are reportedly three times that of China's, 40% of them are unviable with less than 50 students and 2 to 3 teachers. Considering that we have about 935 districts in the country, the 15000 schools to be strengthened constitute an average of 16 schools per district which is significant. These schools can serve as model schools and have a spin-off effect on education in the rest of the district and trigger a revolutionary improvement in primary education.
Establishing a Higher Education Commission is in keeping with the recommendation in the New Education Policy(NEP) and would greatly uniformity and consistency help elevate the quality of higher education in India and enable many universities to enter the top 500 rankings. I am glad that the government has quickly responded to the NEP-2020 recommendation and earmarked funds for the NRF. However, budget allocation is the easier part. What is more important is for a mechanism to integrate academia, industry, government, and the social sector, on a common platform that is a repository of problems, issues that need to be researched. I hope the government, maybe through Niti Aayog quickly acts on this. Then there will plenty to chew for researchers in terms of ideas and research will become a movement where all the stakeholders are equally involved."
Prof. Abhay Karandikar, Director, IIT Kanpur
"The 2021 budgetary allocations and various initiatives planned in the education sector would give the needed boost in the government's drive to promote higher education. The initiatives gives a clear intent of timely execution of the National Education Policy announced in 2020.
The allocation of Rs 50,000 crore in the research & development sector in the next 5 years is an indication of India heading  in its endeavour towards becoming a global tech infused innovation hub- an important step towards "Atmanirbhar Bharat". The allocation of Rs 8000 crore for National Mission on Quantum Computing and Technology will help in establishing our strength in this upcoming technology of the future. The thrust on training and skill will help explore the untapped potential amongst the Indian youth, boosting their employability quotient. Doubling the allocation for MSME sectors will also boost small enterprises and startup. Setting up new investment clearance cell and deferment of Tax on ESOPs will also boost startup ecosystem. Also efforts have been taken to tackle the growing issue of education unemployment with an investment of Rs 3000 crore into the existing National Apprenticeship Training Scheme which aims to provide post-education apprenticeship of graduates and diploma holders in engineering."
Dr. Dishan Kamdar, Vice-Chancellor, FLAME University
"The Government's decision to allocate Rs.50,000 crores over 5 years will serve as a great shot in the arm for the country's research ecosystem. Lack of adequate funding has been a constraint for several higher education institutions and this support will enable the institutions and the faculty to produce high quality, rigorous research output.  The creation of the Higher Education Commission of India (HECI) as an umbrella structure having four separate bodies for standard-setting, accreditation, regulation, and funding under it will bring in synergies across higher education institutions. In addition, a regulatory mechanism to promote academic collaboration with foreign higher educational institutions will help pave the way for Indian higher education institutions to become truly global in the near future".
Yeshwanth Raj Parasmal, Co-Founder and Principal Director, 21K School
"We are hopeful of the education sector and its role in making India atmanirbhar. The budget had a few positive announcements for the formal education sector. Many parts of it were covered in the NEP 2020, and the union budget certainly provides a stimulus to the education policy. However, the informal education sector led by EdTech space had no mention and was disappointing. We expected budgetary allocation to push greater adoption of digital education in the Tier 2 cities and rural areas. A thrust on online education at Government level would have helped India accelerate access, equity and quality of school and higher education in the country."
Achin Bhattacharyya, Founder and CEO, Notebook
"The Honourable FM's announcement with regard to thrust on skilling is a very welcome initiative. The limited window of opportunity that our demographic advantage offers needs to properly utilized over the next few decades before we reach the plateau like many western countries. Hence making our youth more employable has to be taken up on priority. The current budget proposes to realign the existing scheme of the National Apprenticeship Training Scheme (NATS) for providing post-education apprenticeship, training of graduates and diploma holders in Engineering and over 3,000 crores will be provided for this. Also in partnership with the United Arab Emirates, there is an initiative to benchmark skill qualifications, assessment, and certification, accompanied by the deployment of a certified workforce. Also in line with the existing collaborative Training Inter Training Program (TITP) between India and Japan for facilitating the transfer of Japanese industrial and vocational skills, technique, and knowledge, similar the initiative will be taken forward with many more countries."
Amit Gainda, Chief Executive Officer, Avanse Financial Services
Union Budget 2021 announced some of the most appropriate measures which will provide an impetus to the economy post a difficult year. It's focus on health & well-being, financial capital & infrastructure, inclusive development for aspirational India, reinvigorating human capital, innovation & R&D, and minimum government, maximum governance, ensures a stronger growth trajectory for the Indian economy during FY22.
As education-focused NBFC, we believe that the following announcements have the potential to impact the overall education segment and financial institution sector positively. Government's collaboration with UAE to benchmark skill qualifications, assessment and certification and the implementation of collaborative training programme with Japanese will up-skill our youth and provide vocational and industrial skills along with proper techniques and knowledge. The amendment of the Apprenticeship Act to improve the opportunities for the youngsters of our country will build the necessary confidence in them and assist them to be future-ready. These initiatives combined with the proposed regulatory mechanism for collaborations with foreign higher education institutes will enable students to develop global skills and prepare them for a bright career.
We believe that strengthening 15,000 institutes as per the requirement of the National Education Policy is the first step towards implementing the policy in its true sense. It is also mandatory for the sector to push its infrastructure development theme to make education accessible for every deserving student. The importance of this has doubled post the sector shifted to new modules of teaching and learning. Infrastructure improvement and digital advancements with National Digital Educational Architecture (NDEAR) will be instrumental in enabling quality education delivery to all.
This Budget also announced a further relaxation to the limit for NBFCs to be eligible for debt recovery under SARFAESI ACT 2002. The Finance Minister proposed to reduce the asset size limit from INR 50 lakhs to INR 20 lakhs. This will enable the sector to speed up the recovery process and enhance borrower discipline further. Lastly, I would like to congratulate our honourable Finance Minister, Nirmala Sitharaman for presenting the first-ever paperless Budget. This shift from Bahi Khata to tablet is a perfect representation of the 'New India'.
AK Srikanth, CEO, KLAY Preschool & Day-care
"A 9% higher allocation to the Ministry of Education over the revised 2020-21 estimate, and a doubling of the budgets for Digital e-Learning has been a welcome move.  The budget has touched upon the much-anticipated implementation of The National Education Policy with a mentoring model where 15,000 schools will be strengthened initially and in turn work with other schools to follow suit. Bringing in the changes proposed in the policy in this systematic manner would definitely bring in more emphasis and structure in the Early Childhood Care and Education system in India.
However, the education industry as a whole, and specifically the pre- primary sector was looking forward to allocation of funds towards managing the safety of bringing younger children back to schools, which has not been taken into consideration. Schools across the country would benefit from States supporting them with the adequate Health & Safety measures required to keep the children safe on their return to school – which requires governmental grants and subsidies to ensure safety, in a pandemic of a magnitude such as the one we are seeing. If not implemented properly , this aspect can create a health risk to the young ones; not to mention a learning disadvantage for children in their formative years."
Nikhil Barshikar, Founder and Managing Director, Imarticus Learning
"The Central Government has proposed the implementation of Data Analytics, Data Science, Artificial Intelligence and Machine Learning to upgrade the functioning of the Ministry of Corporate Affairs. Specifically, the Ministry's database management systems will be overhauled, leading to increased efficiency in e-scrutiny, e-adjudication, e-consultation and compliance management. To accomplish this, highly skilled Indian Data Scientists and Analysts will be required.
We have also been informed that a Trans-Asian partnership between India, Japan and the UAE is in the pipeline, wherein Workforce Upskilling initiatives and Diploma & Skill Certification programs will be jointly supported by the 3 nations. Given that Imarticus Learning has already established a presence in the UAE this year, this development is of particular interest to us, and we will pay close attention as more information comes to light.
Furthermore, INR 3,000 Crore has been allocated to upskilling and training Indian Engineering Graduates and Diploma recipients, in view of modernizing India's domestic talent pool."
Tarun Anand, Founder and Chairman, Universal Business School, Mumbai
"The budget has all the right intensions whether it is inclusive development, reinvigorating human capital or innovation and R&D. The announcements on power are especially significant because in this era of online learning, it is extremely important that electricity is available, for students to access information. The Internet connection, of course, follows through.
I am particularly excited that the National Research Foundation has to get an outlay of 50,000 Cr over the next 5 years to strengthen research and focus on the national priorities. Innovation and R&D being one of the six pillars, it is critical that both private and public partnerships are encouraged in the field of research as this is fundamental to the development of our country."
Abhishek Kumar, Regional Director, Onvu Learning
"The annual budget brings in good news for Smart Class solutions. The Union budget has a major thrust on the education sector. The decision to strengthen 15,000 government schools provides a major avenue for Smart Class teacher-training solutions such as Onvu Learning. The decision to set up more than 100 Sainik and Eklavya schools with a 50-100% increased budget further opens up this sector for video-enabled teacher's self-training solutions."
Shashank Pandey, Co-founder, ConveGenius
"Ever since NEP 2020 was announced, I was looking forward to the next steps to it. Though impressive, the policy was highly ambitious in its terms. Budget 2021 is a major milestone in actualizing the impact potential of NEP 2020. The Budget 2021 mentions many targets that are directly aligned towards NEP 2020 and hence has a great potential in impacting the education sector. Starting with the 15,000 schools that will mentor and work for NEP implementation, the plan takes forward the idea of a 5+3+3+4 schooling system. The National Digital Education Architecture (NDEAR) is a crucial step towards digital India, blended learning, data-driven governance, and better collaboration between center and states. The budget is highly inclusive and accessible with its nature as the government plans to establish 750 Eklavya Residential Schools in tribal areas, and make higher education accessible to the Ladakh region by establishing a central university in Leh. I am excited to see the many changes that this budget will bring to the education sector and how it will leverage the uprising EdTech industry in India to strengthen its implementation."
Praveen Tyagi, Founder, STEPapp
"Watching the Honourable Finance Minister with a tab raised expectations about the government understanding the importance of technology in education. However, the mindset towards formalizing online course development and properly leveraging technology at scale in education is still quite conservative.
The pandemic proved how important online content delivery is for education and how it can be a great leveller. It is high time for policymakers to look towards a public-private partnerships to promote digital learning at scale without much investment. It is also time for the government to consider reducing GST slab for EdTech companies from 18% to 5% in order to encourage R&D in education-technology."
Rajeev Tiwari, Founder, STEMROBO Technologies
"In the Union Budget, to promote Startup – announcement of Incorporation of One Person Company, Easing of Definition of Small Company from the point of view Corporate Law Compliance are a welcome step.
Innovation & R&D will get a boost by allocating National Regional Foundation (NRF) a sum of 50,000 Cr and boost Innovation Culture in startups.
Announcement of Non-Auditing of Income Tax till 10 Cr.  and allowing Startups to claim IT Exemption and Capital Gains for 1 more Year will ease the Compliance Burden of Startups and help in raising more funds.
NEP (New Education Policy) has been given a thrust in the budget. The plan to set up 15,000 Pilot Schools, as a showcase for NEP, which can be exemplary for other schools, are again a welcome step and promote NEP in the School Ecosystem. Tribal School-Eklavya Schools with newer allocation – in tribal areas will spur further development of education in tribal areas. Allocation of the National Apprenticeship Scheme for 3000 Cr and increasing the contours of it will benefit companies.
Innovation & R&D will get a boost by allocating National Regional Foundation (NRF) a sum of 50,000 Cr. for the next 6 Years. Research and Innovation Ecosystem to get substantial growth."
Abhishek Gupta, Founder and CEO, Hex N Bit
"We welcome the budget for 2021. With an increase in the MSME budget of Rs 15,700 crore, which is more than double of the previous year, can help the startups as well as MSME but as seen there are approximately 50k startups in India, so a big boost was expected in investment
In the National apprenticeship training scheme–the Indian government has now allocated Rs. 3,000 Cr. for National apprenticeship which will create a Skilled & talented workforce with the bilateral partnership with the United Arab Emirates to provide training, certification, assessments etc. India will collaborate with Japan in order to adopt cutting edge technology, technique & vocational programs for scaling up the technology in India to newer heights
The government of India has proposed the budget of Rs 50K crore over 5 years for innovation & R&D. There will be an expectation from the Government to spend setting up the Innovation lab focusing on the technologies such as Artificial Intelligence, Machine learning, Data analytics, etc. which can showcase the solution to most of the problem statement in most of the field including medical, agriculture, defence or any natural disaster
As proposed by FM, capital expenditure is now increased to Rs. 5.54 Lakh crore from Rs. 4.39 Lakh crore, hopefully, the state & center will invest a considerable amount for digital connectivity, high-speed internet at an affordable rate as well as learning assets in a remote location so that aspirants can learn new-age technology to build New India. Even after the economic crisis of Covid-19, an increase in the capital expenditure with such a high number must be appreciated."
Sumeet Jain, Co-founder, Yocket
Nothing concrete has been mentioned about higher education in the budget. Only setting up of Higher Education Commission via legislation was mentioned. But no mention about the budget allocation or how the implementation of the NEP for higher education.
It will be interesting to see the details of the new law to set up the Higher Education Commission. With such a huge population, education is of prime importance if we don't want to see joblessness grow in the coming times.
However, a 50,000 Cr. for research initiatives is a welcome move. Research needs a big boost and this might be a good start. If we need to strengthen our education system, research will be extremely important.
Ramanuj Mukherjee, CEO, LawSikho
"As a CEO of a start-up and a stakeholder in the legal as well as edtech market, budget 2021 is mostly positive news. Deal lawyers will be happy about this budget. Lots of disinvestment work is probably headed towards large law firms. Increasing the FDI cap in insurance is also good news for them. Given increased capital expenditure, we can expect a good time ahead for project and project finance lawyers. I expect law firm hiring to pick up from the lows of 2020 and prospects of upcoming campus placement season in law schools are improving.
However, the best news is reserved for tax lawyers. The finance minister spoke at length about faceless dispute resolution, where personal hearings will also be based on video conferencing, including at the Income Tax Appellate Tribunal level.
This opens up the opportunity to practice tax law from anywhere in India and there would be no need to concentrate the practice in a few big cities. Also, virtual hearings are far more efficient, saves money for clients and time of lawyers, and would be a blessing in the long term for tax law practice in India. It is also a boost to the nascent but growing remote work culture in India. It would also serve as a proof of concept for the rest of the justice delivery system. Lawyers and judges are debating amongst themselves whether physical hearings should be resumed. Many lawyers do not wish to revert to the old inefficient system of sitting in court idly for hours waiting for their cases to be called. This measure from the government will strengthen their voice.
It is also clear from the budget speech that the government is upbeat about the use of AI and intelligence for detecting tax evasion and tax fraud. They have seen great early success and would invest more in it. This is very positive news because we can expect that the taxpayer base will increase and tax recovery will surge in years to come thanks to such technological measures, which may eventually lead to lowering of tax rates."
Gaurav Bhagat, Founder, Gaurav Bhagat Academy
"The Union Budget 2021 presented by the Finance Minister Nirmala Sitharaman represents the strong vision of the nation. It emphasizes good infrastructure, good governance, development, effective implementation of New Education Policy, International Research Collaboration, and Higher Education Commission, which is commendable.
The government is also amending the National Apprenticeship Promotion Scheme was launched in the year 2016. Thanks to this amendment, students, graduates in engineering, and diplomas will be given Apprenticeship Training after they complete their studies. The government has allocated Rs 3 thousand crores towards this purpose which shows how seriously the government is taking the apprenticeship programs. This step will greatly support the development of the youth. The country's workforce has also been informed of an inter-training program with Japan. This collaboration will equip Indian workers with global trade skills. According to the Finance Minister, similar programs will be conducted in collaboration with many other countries as well. Groundwork has already been laid on one such training partnership with the UAE. By 2024, around 1.5 lakh jobs would have been announced in the shipyard.
The Finance Minister has also said that the government will reduce its presence in the public sector and increase investment opportunities for the private sector. This will lead to increased efficiency, capital inclusion, expansion of trade network, increase in FDI, technological adoption, and upskilling of the workforce – eventually creating a stronger, more resilient economy."
Varun Chopra, CEO & Co-Founder, Eduvanz
"More than 40 mn students enroll for HE courses across India every year, the move to set up a HE commission and cluster will allow good private and public institutions in a city to collaborate and edge out the existing silos between the institutions and provide a better quality of education to students in India"
Ganesh Raju, Founder & CEO Ken42
"Budget 2021 is growth-oriented and presents a lot for the industry to look forward to as the country recovers from the pandemic. At 600 million, the youth comprise more than half of our population, and the budget has included announcements to improve their lives and education, as well as the future of the nation.  The announcement to strengthen 15,000 schools as part of the National Education Policy (NEP) 2020 will be a major fillip to the quality of school education. The proposal to start an apprenticeship and embedded degree and diploma courses for students in non-science and technology streams in 150 higher education institutes by March 2021 will increase the available opportunities to students for upskilling and employment. It's also likely to open up more opportunities for edtech companies to collaborate with the government education sector.
It can be expected that the edtech companies that form a part of the MSME sector will benefit from the allocation of Rs 15700 crore that has been provided for improving the sector and industry. The move will generate a lot of employment opportunities as well."
Ashish Jhalani, Managing Director, Square Panda India
"Square Panda is very excited that inclusive development for aspirational India and reinvigorating human capital are two pillars on which budget 2021 rests. The two important announcements for us are that over 15,000 schools are to implement the National Education Policy and act as a model for the rest of the schools.
Also, a 100 new Sainik Schools and 750 Eklavya Model Residential Schools are to be set up in tribal areas. Each of these, is an opportunity to skill our children, our pre-schoolers in the right way, with the right pedagogy and ensure that their foundational literacy and numeracy is achieved and that they become contributing citizens to the India of the future."
Kiran Dham, CEO, Globus Infocom Ltd
"Budget 2021 is quite promising & positive as it is focussing on the 6 different pillars which also includes education & development. Government has taken special measures to make education more technology friendly & digitally empowered by strengthening the digital as well as supporting physical infrastructure including road, electricity etc. making education easily accessible to one and all.  Government has proclaimed to carry forward the Aatmanirbhar Bharat campaign which will boost the confidence of Indian brands like ours.
With the promise of introducing more schools following the NEP policy, the focus will be on the training and development of 56 lakh school teachers under the policy which will surely put forth education in a different & enhanced way. The formation of Higher Education Commission will be making higher education more accessible which will result in securing a better career. The announcement of National Language Translation Mission to emphasize & promote the importance of Indian languages is a welcoming step too.
To promote enhanced academic collaboration with foreign higher educational institutions, Govt. has announced to place a regulatory mechanism to permit dual dree, joint degree & other mechanisms like twinning arrangement which seems to open new avenues for higher education in India. We as a Make In India education brand believe that the budget is in sync with our goals & vision & will surely help us with our working procedures to move ahead."
Rishabh Khanna, Cognitive Scientist & Founder of Suraasa 
"The National Education Policy has clearly shown India's vision and bright future for school education and higher education in the country. Its implementation in 15,000 schools is an excellent start toward a more holistic education approach and a good deliverable for the union budget. International partnerships are a must for India to become a global workforce supplier. Partnerships with countries like UAE, which have been successful in improving the quality of learning outcomes with their national standards and licensing systems, will act as key drivers in bringing our education system at par with international standards."
Pavan Allena, Founder & CEO, MetamorphosisEdu
"We are pleased with the Finance Minister's announcement with respect to the education & start-up sector. The introduction of the New Education Policy with a special focus on skill-based aspects will help in transforming & up-skilling not only the existing faculties but also the students. This will help us in creating content that will transform the education regime to global standards. Also, the Government's vision of Digital India and Startup India is incomplete without efficient entrepreneurs who not only have a vision but the skills to execute them. The Finance Minister's announcement to incentivize start-ups funding and propel single entrepreneurship in the country will enable the development of cutting-edge and indigenous technological solutions, create high-tech jobs in India, up-skill Indian professionals, and enable us to tap the ripening global market"
Chef Niklesh Sharma, Founder of Academy of Pastry & Culinary Arts (APCA)
"We are pleased to see the vocational & skill based courses coming to forefront in our Finance Minister's speech today. They have for way too long served in the sidelines of the Indian education regime and with this push we are hopeful that we will be able to produce better professionals and overall an impactful educational culture in the country. The introduction of the New Education Policy (NEP) has also served us a propellant for the age old educational infrastructure in India and we are hopeful that the Government will keep on bringing necessary amendments in the future as well".
Kounal Gupta, Founder & CEO, Henry Harvin Education 
"The year 2020 introduced a new way of learning in India where technology played a key role. Amidst this, the announcement of setting up a National Digital Educational Architecture (NDEAR) is a great initiative to march towards a Digital First Mindset which will not only support teaching and learning activities but also educational planning and governance. The announcement of NEP (New Education Policy) in the Union Budget 2021 is also a welcoming step.  Furthermore, skill enrichment programs to be initiated in collaboration with UAE will open the doors to new opportunities for the youth. Setting up of the Higher Education Commission via legislation is another motivating step addressed in the budget.
Despite the steps taken for the betterment of the educational ecosystem, we feel the budget lacked specific mentions for higher education. Hence it will be interesting to see the implementation of new laws that will lay more focus on the higher education system. Having said that, we do feel that the allocation of 50,000 Cr for research will strengthen the education system in the country."
Sumeet Verma, CO-founder CEO, KopyKitab
"Under Education Budget 2021, FM stated that the youth of the country have abundant skills and it needs proper channelization. While we wait for the finer print, key takeaways for education sector were plenty. Announcement of setting-up the Higher Education Commission of India is a welcome move, as this sector needs huge support, where most of the students enrol for a career. Focussed body, budgeting and execution would be working positively for the sector.
I hope, the commission would cover on how to plug the gap between skill development and higher education. The digital enhancement could be the first step towards it. Focusing at an early level is the key not at exit levels.
As India is amongst the fastest growing country in edtech space, special inclusion of edtech start-ups would certainly help the whole ecosystem much faster with better outcomes.
The Budget did a miss on a few counts like no special benefits for the higher education sector or the ed tech companies catering to this segment. More encouragement for ed-tech would have been great as ed-tech companies are undoubtedly playing a crucial role today. However, the FM focus largely remained on the education sector with an eye on creating more offline infrastructure. The right blend is the need of the hour.
Encouraging strong capital & investment support to edtech, long term tax holiday for investors and boosting morale for investment could align broader coverage for the ed-tech sectors especially when we want faster outputs in lesser time.
We need more collaboration using technology where we can enrol good teachers and good content by larger collaborations both national & international levels and make it even play for our higher education students."
Ankit Arora, Founding Director, Saarthi Education
"The unprecedented pandemic situation has led to an increased digital divide in the education sector and NGOs, Social sector enterprises are still grappling with the same and trying to reach pre-COVID numbers in terms of students enrolled and infrastructure support from government and private entities. Issues like smartphone penetration, high speed internet and remote locations add to the woes of underserved children, who find it challenging to keep abreast with the syllabus and what was taught in schools. When it comes to primary education, a last mile delivery remains to be seen in terms of execution of NEP and creation of adept infrastructure for distance or remote learning. We do appreciate the consideration for tribal population and an intent to create amenities in locations like Leh, Ladakh where owing to difficult geographic conditions, it might be difficult to give equitable access to learning and education.
Structured avenues for utilizing funds when it comes to Primary education, especially for the underserved seems to be the need of the hour, what remains to be seen is that as a country,  are we able to address grass root education dissemination challenges before taking a leap of faith towards higher education and upskilling or not."
Related Articles